Jaguar Service Department
If you own a Jaguar you already know what a rock solid machine it is. To keep your vehicle operating at its peak of performance and efficiency always perform the preventative Jaguar service at the recommended service intervals. These service precautions are necessary to ensure that your vehicle is well taken care of for many years to come. During your Jaguar service appointment, an Auto Haus technician can also catch other repair issues before they become major and costly repairs or cause lasting damage to your beloved Jaguar.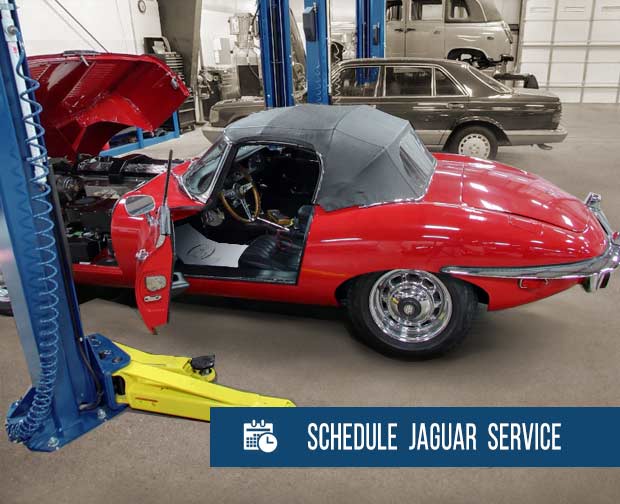 We service new Jaguar models as well as the original Jaguar models.
Keep in mind that your Jaguar service interval should never exceed 12 months, even if you do not hit the mileage. This is why we have put together a basic description of the service intervals. This is a recommendation and may vary based on the model and year of your vehicle. Consult your owners manual for a detailed description of your specific Jaguar service needs.
Every 5,000 Miles
Change engine oil and filter.
Lubricate door hinges and body fittings.
Clean and dry lube power antenna.
Check and top off all fluids.
Visually inspect the undercarriage for any problems or damage.
Inspect and rotate tires.
Check windshield wipers and washers.
Check all lights and replace bulbs if necessary.
Check belts and hoses.
Check air conditioner and heater is working properly.
Road test the vehicle, and note any problems while driving.
At Each 15,000 Mile Mark, Add These Additional Items
Replace spark plugs.
Check air filter and replace if necessary.
Check throttle plate and clean if dirty.
Check belt adjustment.
Check brakes.
Lubricate door locks.
Grease wheel bearings.
At Each 30,000 Mile Mark, Add These Additional Items
Change transmission fluid and filter.
Change rear axle lube.
Inspect exhaust system.
Inspect rear transmission mount spool and replace if needed.
Change power steering fluid.
Repack front wheel bearings.
Replace oxygen sensor every 90,000 miles.
Adjust drive belts and replace every six years or 60,000 miles.
Inspect battery and replace if 4 years old or if it fails load test.
Inspect brake discs/rotors.
Inspect brake fluid level, brake hoses, and brake pads.
Inspect the cooling system.
Inspect door hinges and locks.
Inspect engine and engine mounts.
Inspect exhaust system.
Inspect fuel system.
Inspect handbrake if applicable.
Inspect headlights.
Inspect lights and controls.
Inspect seat belts.
Inspect steering system.
Check wheel alignment.
Inspect wheel lug nuts.
Lubricate accelerator linkage.
Lubricate brake pedal.
Lubricate distributor advance mechanism.
Lubricate weatherstripping.
Torque propeller shaft bolts.
Following this Jaguar service schedule can ensure that your Jaguar is in the best possible shape and lasts for many years ahead. Prevent major issues and protect your Jaguar by taking the recommended maintenance steps